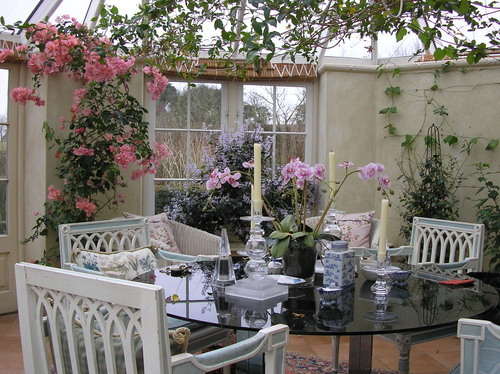 Do you have an existing glass structure and / or plant collection ?
Growing plants under glass, where things can happen very fast, where you can become very attached to your plants watching their greatest moments and dealing with their dramas, then a little help can go a long way.
We prune, train, re-pot and tidy plant collections throughout the year and can share with you our plant husbandry expertise; including the most up to date biological and integrated pest control techniques. This is especially useful for spider mite and mealy bug problems!
We enliven established collections with a re-think. For example , by simply re-locating plants in new containers and cutting them into different styles, we can give you a very different look and feel to your conservatory. If you are keen to grow some new species , then we can carefully add complementary plants to your established arrangement.
We work closely with our clients and their gardeners to ensure that they are well advised in all aspects of good quality plant care. This means that your plant collections are maintained to a very high standard.
If this is the sort of help you wish for, then please contact Fleur de Lys to discuss how best we can assist you .