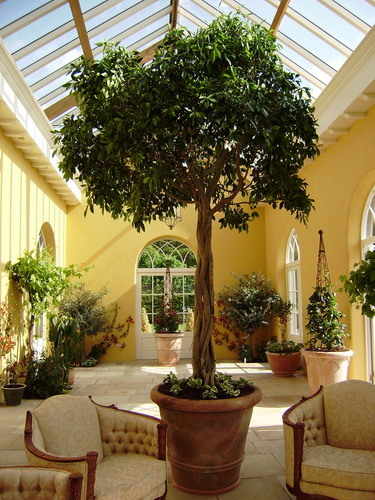 We love to share the 'green dreams of our clients', and we relish the bringing together of living plants with people who love them.
Do you have a new conservatory, glasshouse, orangery, pool enclosure, garden room or atrium but need advice on what to plant ?
Then we can advise upon and help you put together a stunning plant collection to suit your particular taste, with the accent on flowers, fruits, fragrance, lush greenery or a combination of these.
We recommend our 'Consultancy' as an essential first step. A chance to meet in your new conservatory and discuss and explore your planting ideas. You will be invited to look at photographs of our work...... inspiring ways to create your own idea of a tropical paradise garden at home.
A complete picture of how the room will be used, how you want it to look and feel, how much time you want to spend with your plants and so on will gradually become clear so that a planting plan can naturally evolve.
Above all, we understand that creating your very own exotic retreat requires a certain ........... 'Spirit of Adventure' ............